As the name suggests, the pipe clamps are designed as power tools to help you work more securely and effectively with suspended pipes. However, not all clamping tools are the same. In contrast, there are several types of pipe clamp fixture kits made of different materials; in different sizes/shapes; and for different purposes.
For example, a stainless steel pipe clamp set is recommended for jobs that are often exposed to moisture or salted environmental conditions. Meanwhile, plastic pipe clamps are preferred for lighter projects such as household decors or fixings.
Here we gather all the helpful information to help you to choose the best hand tools for your purposes, including:
Top 5 best pipe clamps reviews
A complete buying guide
FAQs of pipe clamps
Let's get started!
Bessey BPC-H12 1/2-Inch H Style Pipe Clamps
Bessey H Series Pipe Clamp is selling like hot cake because of its functionality and durability. Here we introduce you to the BPCH12 1/2 inch version. (The Bessey BPCH34 34inch is also available.)
First off, the H style pipe clamps like the Bessey provide a wider and taller space than standard clamps to handle the pipe flexibly without tipping or scraping the knuckles. Even more, such a dual-axis construction helps improve stability.
Next, this clamp is built with your project in mind. Accordingly, there are soft plastic slip-on pads so that you can adjust the clamps without worrying about causing dents or damages to the materials. Meanwhile, the crank handles are in place to clear the work surface if you want to assemble or disassemble the clamp.
Another plus is the durability. Bessey BPC-H12 1/2-Inch is made of solid material, along with a powder coat, zinc-plated clutch system, as well as a black oxide coating spindle. All in all, the clamps are strong enough to withdraw forces and falls. However, the finish seems a little rough.
In drawbacks, the ½-inch version is a bit limited in appliances compared to the ¾-inch clamp. Besides, there is no anchoring pipe with the package.
Quick Recap
All in all the Bessey BPC-H12 1/2-Inch is well worth buying. It is easy to set up and incredibly stable on your projects. In addition, the clamp comes at a surprisingly reasonable price.
Yost Tools YPCY34 3/4" Pipe Clamp Kit
At a glance, the Yost Tools YPCY34 3/4″ Pipe Clamp looks similar to the Bessey. They all have a taller and wider stance, cast jaws, built-in clamp hanger, and a crank-type handle. For that reason, you can expect Yost pipe clamps are easy to use and user-friendly.
Now, let's get insight into the features of the Yost Tools YPCY34.
To begin with, the clamp is ¾ inch. At this size, the clamps are available to apply more pressure and also stronger over time. There are also soft clamping jaws of 1-½ inches tall to sit comfortably above work surfaces. You can also choose Yost Tools YPCY12 if you need it.
Apart from it, the clamp is hyper-durable thanks to its cast-iron construction. The material is well-known for the balance of price and quality. Specifically, it will stand for years even under high-vibration damping, wears, and tears. Moreover, the clamp features a black pipe finish to enhance its longevity.
Thirdly, in terms of installation, we find that the main ACME screw is very helpful. You can install and operate the clamp at ease.
Quick Recap
With a durable body and flexible design, the Yost Tools YPCY34 3/4" Pipe Clamp is an excellent tool set for pro woodworking projects and more.
IRWIN QUICK-GRIP Pipe Clamp 3/4-Inch (224134)
Having a reliable blue color as the Yost pipe clamps, this IRWIN QUICK GRIP Pipe Clamp is the next on the list.
As you already figured out by the name, the clamp is designed with a secure grip and a quick release in mind. To be exact, you will get an oversized handle that you can hold for a long time with comfort. The extra-large feet between the worktop and the handle also means additional security.
Besides, some consumers praise the innovative clutch plates. It frees them from buying a threaded pipe because of the built-in design of double threads. All to do is slipping right in the end. Without the thread, the crank side is possible to slip out occasionally. However, you can avoid this irritating problem by squeezing the support piece.
Another good point is that the tool can quickly change out to any length. So this clamp for the pipe fits your work surface.
Quick Recap
There are several reasons to get a non-threaded pipe clamp such as IRWIN QUICKGRIP clamp. Just to name a few, the elimination of complicated threads, quick changeovers, and an easy disassemble.
PONY 55 Pro Pipe Clamp Fixture for 34inch Black Pipe
For your information, the PONY 55 Pro Pipe Clamp is one of the top-rated on the market. It makes sense, considering the fact that Poney has in the business for pipe clamps for years. They know what is on-demand and do provide a solution.
Compared to other woodworking tools  such as IRWIN, Bessey, and Yost Tools, this product seems not very different. In truth, you can find some common features such as the wide stance for ¾-inch pipes and logs; the long clamping jaws, and a large crank-type handle. The body is made of iron castings, along with black and orange baked-enamel finish.
So, what is different, making the big fan club of this PONY 55 Pro Pipe Clamp?
As far as we know, all components of this clamp are carefully made to ensure that parallel clamps fit with each other to guarantee the stability and safety on the workbench. This is extremely important when you need to work with pipes and items for hours.
Quick Recap
Although the clamp is not much different from other pipe clamps, the build quality is what you should never ignore. For your sake and for flexibility in applications, the branded PONY 55 Pro Pipe Clamp is still strongly recommended.
Rockler Sure-Foot Plus 3/4 in Pipe Clamp
Rockler SureFoot Plus 3/4 in Pipe Clamp is the last on the list, but definitely not the least. In contrast, this clamp is often in the top 3 of all the best pipe clamps reviews. Check the specifications and you will find out the reason why.
Take the jaws, for instance. The dimension of 2-¼ inches is a half-inch higher than the standard choices and the foot is as wide as 2-½ inches. Both will secure your bench surfaces from tears or rocks.
Furthermore, there are holes in clamping face to mount cauls, specialty fixtures, or pads when you need them. We also appreciate the backbone of U-shaped aluminum which will survive even under a harsh clamping force.
Quick Recap
In sum, we recommend Rockler Sure-Foot Plus 3/4 in Pipe Clamp as versatile and heavy-duty clamps for almost all jobs.
Buying Guide to Get The Best Pipe Clamps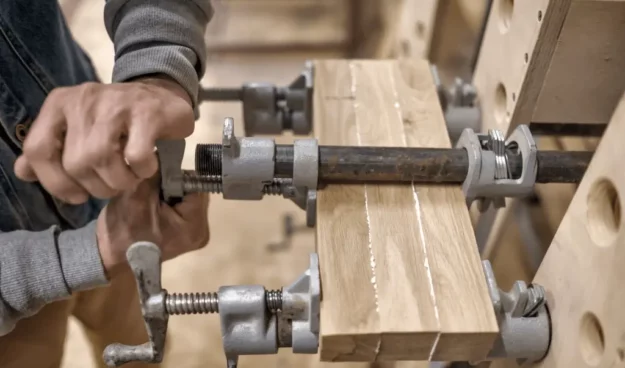 Your projects and requirements
As we suggested earlier, which pipe clamps to choose is mostly based on your projects. To be exact,
Now that you are well understanding your projects, the next step is to pick up the right clamp types.
Feel free to consider the followings:
#1. Standard pipe clamps
Easy installation.
Using two screws – each on either side, the standard clamps are easy to install and secure in place. Not to mention, they often come in numerous sizes.
#2. Plastic pipe clamps
Good for hard environments and electrical installations.
When you need a quick installation on plastic and household copper pipes, the plastic clamps come as a good choice. However, remember that these clamps are for small pipes and light loads.
#3. Traditional pipe clamps
Recommended with basic bracket.
The traditional clamps feature no rubber cushioning. It means you should avoid using them where temperature variations and noise insulations are present.
#4. Heavy-duty pipe clamps
Used for high loads.
Safely certified with a heavy load-bearing capacity, these clamps are supposed to carry up to significant forces, for example, to support heating pipes under a bridge.
While the types of pipe clamps affect the way to install, materials indicate the durability and ergonomics of the clamps over time. Also. heavy-duty materials are often much expensive.
Stainless-steel clamps are good for any setting thanks to their improved resistance and rigidity.
Plastic pipe clamps are available in PE, PP, PVC, etc. All are helpful when you need a moisture-proof and hard-to-wearing accessory. The PVC pipe clamps are the most common.
Copper pipe clamps are durable enough for indoor water systems because they remain neutral and water-free from years to years.
Brass pipe clamps are decoratively appealing. In addition, they are also common for the plumbing system and fire-fighting system.
Chrome pipe clamps are as good as the stainless steel clamp options in terms of all-round weathering performance. What's more, they are aesthetically beautiful in visible areas.
Measure the length of the pipe in Nominal Bore (NB) or Outer Diameter (O/D) dimensions. Then, take environmental factors like temperature or the materials of the pipe and the clamp into account. Finally, figure out the needed size of the clamps.
10-mm clamps are for microbore heating systems and narrow ductwork.
15-mm clamps fit most copper, brass, as well as plastic tubes.
20-mm clamps are ideal for the water system above the ground or for trunking, electrical cabling, or routing appliances.
22-mm clamps support higher-gauge conduit than 15-mm ones, for longer uses.
28-mm clamps are regularly found for water supply in the UK.
40-mm clamps are heavy-duty enough to carry up waste from showers and baths.
50-mm clamps can hold up waste through both commercial and domestic appliances.
What are pipe clamps used for?
Simply put, pipe clamps are supposed to encircle tubes or cables and secure them on walls or to structures where you need them. As a result, the pipes are affixed not to cause accidents or damages.
Specifically, you can use the clamps to:
Align or re-form tubes, pipes, as well as other fittings;
Help with woodworking edge gluing;
Secure the mating weld side;
Help assemble a cabinet door and frame;
Cut out the symmetrical corners of the wood;
Bundle hoses and ropes; etc.
How do you use the pipe clamps?
To start, we would like to share some useful tips to use pipe clamps safely. Thanks, CP Builds – Woodworking & DIY for putting all together.
In specific scenarios, you should read the manual guide carefully to get step-by-step instructions.
Which is better, pipe clamps or bar clamps?
In brief, a pipe clamp is often cheaper than a bar clamp. Moreover, they are more versatile since you can lengthen or shorten the clamps as wished. The bar clamps, however, are originally fixed. Not to mention, pipe clamps were proven to possibly carry up a higher clamping pressure.
In the downside, the pipe clamps are less able to keep aligned over time as the bar clamps.
Do not hesitate any longer! The best pipe clamps are now under your fingertips to pick up and use for your sake. All products on the list are carefully chosen and reviewed by our experts.
In case you can't still decide, take the Rockler Sure-Foot Plus 3/4 in Pipe Clamp as the top choice. It has a user-friendly design and works with almost all work projects.